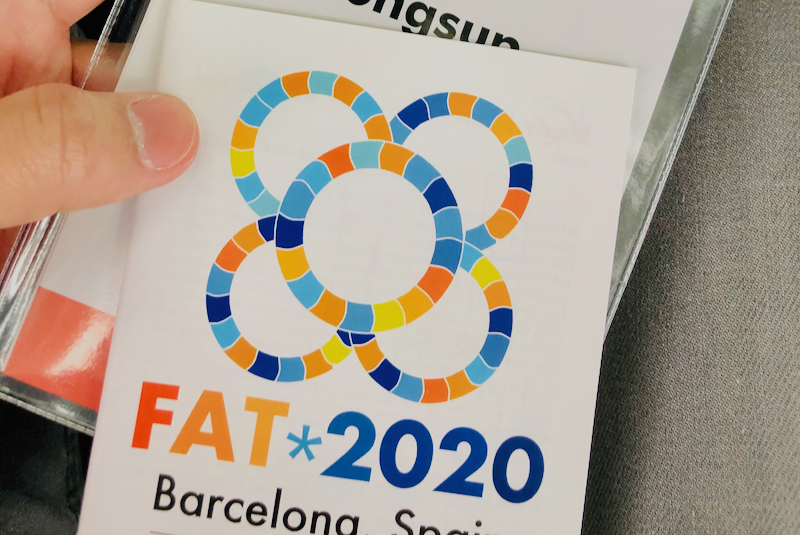 ACM Conference on Fairness, Accountability, and Transparency (ACM FAT*) is a computer science conference that aims to bring together "researchers and practitioners interested in fairness, accountability, and transparency (FAccT) in sociotechnical systems" to nurture multidisciplinary approach and collaborations. Fortunately, I was able to attend the conference every year since 2018 when it first started. I attended the entirety of the conference, which includes tutorials, main conference, and the Critiquing and Rethinking Accountability, Fairness and Transparency (CRAFT) session. (FYI, The conference affiliated with ACM in 2019 (Atlanta, GA) and changed its name to ACM FAccT immediately following this year's conference in Barcelona, Spain.)
What's new
Compared to the last year's event, the organizers made several changes to reflect that FAccT topics require a more holistic view rather than a pure computer science one. In addition to the computer science (CS) track, they created tracks dedicated to social sciences and humanities (SSH), and legal scholarship (LAW). They have also added the CRAFT session, inspired by the NeurIPS 2018 Workshop, "Critiquing and Correcting Trends in Machine Learning" (CRACT). The session focused on critiques of the field of FAccT, such as its blind spots, omissions, or alternative possibilities that take a more holistic approach. This is to give voice to those who suffer the impact, daring formats and beyond academia.
Tutorials
This year, the tutorials are divided into four categories (hands-on, translation, implications, and invited). The hands-on tutorials included explanatory tools (Google's What-If and IBM's "AI Explainability 360") and University of Colorado's fairness-aware recommendation package called librec-auto. These are useful tools, but I assumed I could learn about these tools on my own from their websites. Instead, I attended translation and implications tutorials where the former includes topics on ethics, law and policy, and the latter is about case studies of FAccT topics in industry. Interestingly, some of the translation tutorials focused on positionality, the social and political context that influences, and potentially biases, a person's unique but partial understanding of the world. Here is the summary of the tutorials I attended.
Explainable AI in Industry: Practical Challenges and Lessons Learned
This tutorial discussed several techniques on how to provide explainability in ML models and introduced several case studies. Generally, there are two approaches to achieve explainable AI. We can build an interpretable model such as linear models or decision trees, or we consider coming up with post-hoc explanation for a given model. We focused on the latter. The post-hoc explanation approach can be rephrased as the "attribution" problem. In other words, we want to know why a model makes a certain prediction and attribute the model decision to the feature of an input. The main technique we discussed, integrated gradients1 address this aspect by interpreting explainability as feature gradient. For instance, if I changed a feature X, and then the target Y has changed, we may consider the change of X as an explanation to change of Y. Integrated gradients are model-agnostic interpretation of this idea. Here, we look for feature regions where model performance changes dramatically (i.e., large gradient) and integrate them to create an explanation. One application example was diabetic retinopathy to predict severity of the disorder in retinal images. The method was able to provide explanation to deep learning model prediction by locating retinal legions. Although this is useful for its model-agnostic approach, it still lacks global explanation.
Leap of FATE: Human Rights as a Complementary Framework for AI Policy and Practice
Even though AI governance has emerged as a hot topic, many are disappointed by the current ethical framework for AI-related problems. The speakers suggest that we can use human-rights based approach to bring more rigorous and specific groundwork for AI governance. Existing treaties or resolutions such as Universal Declaration of Human Rights (UHDR) or International Covenant on Civil and Political Rights (ICCPR) are good examples. Adopting a human rights perspective for AI governance provides several benefits. First, these are well-established universal standards that have been existing for many decades. Second, they have more currency than ethics, and thus provide better accountability especially when these are violated (i.e., violation to human rights). Since these resolutions are much more specific than ethics, it is possible to make human rights impact assessment of AI technology and companies who own it.
Two computer scientists and a cultural scientist get hit by a driver-less car: Situating knowledge in the cross-disciplinary study of F-A-T in machine learning
This tutorial focused on positionality and attempted to give audience first-hand experience of how researchers' perspectives and approaches can differ across many disciplines. After a brief introduction, we were split into several groups and read three papers all from different disciplines such as computer science, social science and philosophy. The computer science paper was about identifying racial bias in online comments. The social science paper discussed intricate relation between racial minority and their particular usage of certain words in English. In addition to using several questionable methods, the authors from the first paper clearly lacked domain knowledge. Thus, the conclusion of this paper inevitably made a blanket statement on the topic, which was inaccurate and ignorant. It was a good hands-on exercise on the importance of domain knowledge and collaboration across multiple disciplines, which is usually required in FAccT-related studies.
Main conference
There were three keynote talks and 15 sessions of talks for accepted papers. These sessions are grouped into the following topics:
Accountability
Explainability
Auditing/Assessment
Fairness
Ethics and Policy
Values
Data collection
Cognition and education
Sensitive attributes
CRAFT sessions
CRAFT stands for Critiquing and Rethinking Accountability, Fairness and Transparency (CRAFT) session. These are designed to bring more diverse voices on FAT* topics. I attended the following sessions.
When Not to Design, Build, or Deploy
Given the recent push for moratoria on facial recognition, protests around the sale of digital technologies, and the ongoing harms to marginalized groups from automated systems such as risk prediction, a broader discussion around how, when, and why to say no as academics, practitioners, activists, and society, seems both relevant and urgent.
Some of the notable topics the panel discussed include more case studies on the unnecessary surveillance driven by AI systems, raising tech workers' agency (accompanied with ethics training for engineers), and making interventions at various points in a production pipeline, and so on. When it comes to how we would formalize the effort in terms of policy, some mentioned that engineers can potentially make released models more difficult to replicate, societies can apply similar regulations to AI as they do to any weapons, and governments can bring legal enforcement on the issue.
Centering Disability Perspectives in Algorithmic Fairness, Accountability & Transparency
It is vital to consider the unique risks and impacts of algorithmic decision-making for people with disabilities. The diverse nature of potential disabilities poses unique challenges. Many disabled people choose not to disclose their disabilities, making auditing and accountability tools particularly hard to design and operate. Further, the variety inherent in disability poses challenges for collecting representative training data in any quantity sufficient to better train more inclusive and accountable algorithms.
Speakers mentioned that disability perspectives combine AI systems design and accessibility issues. This is similar to the lack of diversity issue in training data in face recognition. If deployed AI systems cannot recognize disabled people. This requires ML engineers to consider whom their models might fail for and consider inclusive and viable solutions in advance. The disabled community also has intersectionality because how disabled are represented in the media and society do not reflect the diverse spectrum of the disabled community. This is also related to that various demographic groups have different socioeconomic and genetic backgrounds that might affect the probability of them to become disabled.
Reflection and suggestions
Overall, it was nice to see the conference growing rapidly every year. I appreciated the organizers' move to create separate tracks for social science and law, to encourage more holistic views in research. I enjoyed the CRAFT sessions very much. Due to the interdisciplinary nature of the FAT* topics, sometimes I sensed that the one-way communication of the talk format has severe limitations on how we move further from here. The CRAFT sessions were the attempts to mitigate this issue and also bring the ground workers such as activists, lawyers, policy makers, industry data scientists together.
I also see there are room for improvements. First of all, every talk was strictly limited to 8 minutes, which was too short. Especially when it comes to computer-science papers, some speakers showed many math equations on their slides, which is probably not the best strategy for the 8-min talk. Some speakers did a great job of laying out the background knowledge but not all of them. If we are truly interested in multidisciplinary effort, improving the communication is crucial.
Speaking of communication, at the very end of the conference, there was a townhall meeting and the Q&A was extremely short. I think this should be more focused because we are a group of various backgrounds and to make impactful changes from our research, it is important to open the floor for more discussions. This can be potentially mitigated by organizing birds-of- feather (BOF) sessions or group-lunch for certain topics. The conference is growing fast, which means we will have a lot of newcomers every year. It would be better for them to have easy-to- network venues.
The conference this year used an anonymous board to submit questions online and did not use their Slack channel much. I understand the need for anonymity but the Slack channel was extremely useful in terms of establishing networks between researchers from different domain and socializing. Tutorial preparation could have also been announced on the Slack channel as well like last year. There were some tutorials where the attendees didn't get enough information about the preparation and it was a missed opportunity.
This issue was brought up last year but the conference may want to attempt to create a shared knowledge base to educate the attendees to have everyone on the same page. There are many definitions of key terms such as fairness, and there are important historic case studies researchers talk about all the time. It would be nice to have standardized material that is open to all attendees before the conference so that we can all well-informed and follow the conference material more easily.
This might be a radical and debatable idea, but if the conference is truly interested in tackling practical and more current issues related to the FAT* topics, they might consider bringing more industry people, especially the ones who are often criticized by various researchers to make them more accountable and help them create a better solution, instead of ostracizing them. Not all companies may participate but considering the urgency of the issue, it wouldn't do any harm for us to reach out to industry and bring them to the table. This will also provide opportunities for researchers as well if the industry stakeholders share their difficulties of implementing good AI governance in practice, and the researchers can help tackling them.